As we enter the 3rd month of the year, so much seems to have transpired already.
Workspace seems to have the same pace as any hectic December season and the flow of life just seems, well, different. The "new normal" just is not becoming normal.
Perspective in the season becomes so vital because ultimately it impacts our level of self-awareness. How we see ourselves at any given moment is extremely important as it allows us to process how we are feeling and intern, it helps us understand those around us. Simply put, enabling us to be emotionally intelligent.
"I have learned over the years that the higher the level of emotion, the lower the level of reasoning. For example, if your emotions are at the highest level of 10, your ability to reason is at a 0. If it's a 9 then your reasoning is a 1. I am not suggesting that emotions don't have their place, but taking actions based purely on emotions is dangerous and could cost you everything."

― Eric Thomas, The Secret to Success
Emotional intelligence, as stated above, is not a "one-stop fill up" but a continual endeavor, a conscious choice of being self-aware. But how can you be self-aware when you feel empty on the inside?
In order to build your life you have to be a leader in your own right. This type of leadership is developed by ensuring that the "cup" in your life is filled. It is impossible to give what you do not have. i.e.You cannot give love when you do not possess any self-love.
Here are some refill check points:
Self Care – There is no love, like self-care. This could be as simple as ensuring you get your 7 or 8 hours of sleep on a daily basis, a 10-minute walk, putting down your mobile phone to listen to your own thoughts, or simply eating healthy.
Time – No one is going to give you permission to take some time out for yourself. Block out time in your diary to rest and do absolutely nothing (without feeling guilty about it).
Question Your Standards of Perfection – It's often that we place too much pressure on ourselves and create anxiety. The 5 page to-do list will always reinforce the guilt in your time.
Spirituality – The focus on self-progress often makes us lose sight of our bigger purpose. Getting in touch with your spiritual side, regardless of how that manifests, reminds you that you are a part of something bigger and reinforces the connection with the humanity around you.
Homework: The Self Care Wheel Exercise
Work, parenting, education, and relationships may be sources of stress. Research over the last two decades has confirmed the severe impact of our failure to handle situations in which we find ourselves.
Indeed, chronic stress can be recognized by some of the following:
Overwhelming exhaustion
Lack of commitment
Negative attitudes
Dissatisfaction with performance
Self-care can help, but it needs to be planned, acted upon, and practiced
You will need:
Purpose: This is an empowering, affirming, and positive tool, which helps individuals to manage every-day stress, and increases contentment and life satisfaction. Practicing effective self-care means finding a balance between the six sectors, each of which requires our daily attention.
Method: Below is a complete version of the self-care wheel. Redraw the wheel and complete it with what you believe you have the capacity to commit to. It is easier to start small and as you progress the list within each area of focus will naturally progress.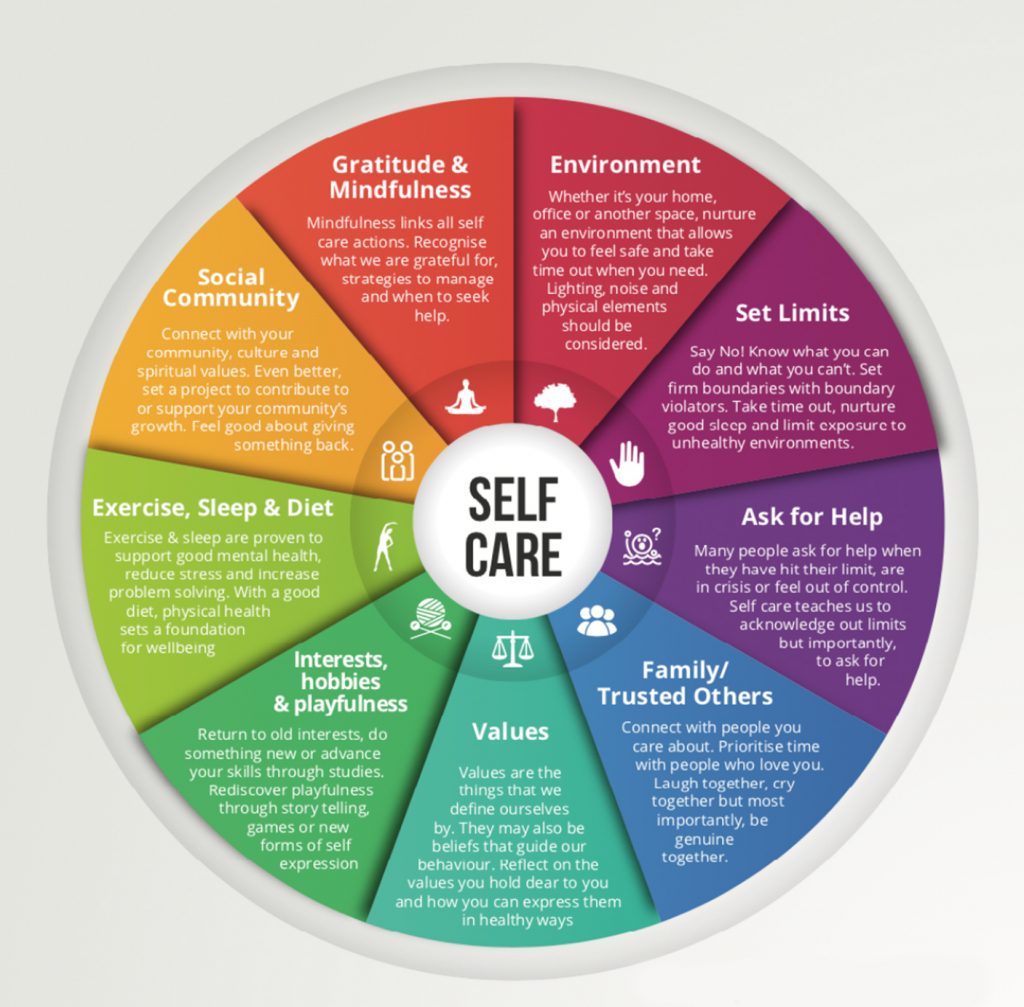 Through it all it is imperative to realize that although self-care can sometimes be cliche, it can also be a life-saver. Finding a version of self-care that works for you, and own it.
End the exercise with 3 affirmations, sign and date them as well.
Example:
I allow love to fill me up and guide me in all of my actions.
I always choose happiness / I am in the process of becoming the best version of myself.
My mind is free of resistance and open to the possibilities.
Signed [Date] + Name & Actual Signature